The Working Group
On November 7, 2011, the Mühlhausen municipal archive and the Friedrich Christian Lesser Foundation, based in Nordhausen, invited archivists from former Imperial Cities to convene in the great council chamber of Mühlhausen's historic town hall. There they founded the "Arbeitskreis Reichsstadtgeschichtsforschung" (Research Working Group "History of the Free Imperial Cities"). In 2015 the name was changed into "Mühlhäuser Arbeitskreis für Reichsstadtgeschichte.
The Working Group is open to all persons interested in the history of Imperial Cities, especially to staff members from archives and museums of former Imperial Cities, as well as to scholars from universities and research institutes.
The core activities of the Working Group comprise the organisation of annual scholarly conferences and the publication of papers held on these gatherings. The Working Group intends to investigate fundamental aspects of Imperial Cities, or even whole regions of Imperial Cities, and to provide comparative perspectives.
We especially encourage research on medium-sized and small cities, which have received disproportionately less attention than the larger cities. Mühlhausen has been designated as the place of the Working Group's meetings, taking place annually from Carnival Monday to Ash Wednesday.
The Working Group stands in the tradition of previous initiatives, especially the "Working Group on the History of Upper German Imperial Cities" ("Arbeitsgemeinschaft für die Geschichte der oberdeutschen Reichsstädte"). Founded in 1960 and based in Esslingen am Neckar, this group eventually changed its name to "Network for Historical Cities" ("Forum Stadt – Netzwerk historischer Städte e. V.") and has a different focus today. The Research Working Group "Mühlhäuser Arbeitskreis für Reichsstadtgeschichte" is creating a new network for the collaboration in the research on Imperial Cities. The group's work has been made possible by the close partnership with the Friedrich Christian Lesser Foundation, which as pledged to finance the annual conference and publications for years to come. Long-term support is also provided by the City of Mühlhausen, whose municipal archive coordinates the Working Group's activities. A third collaboration partner is the Historical Society of Mühlhausen ("Mühlhäuser Geschichts- und Denkmalpflegeverein e. V."), which enriches the conferences with interesting excursions.
To the overview of the contributors to the "Mühlhäuser Arbeitskreis für Reichsstadtgeschichte".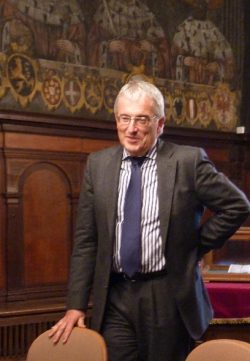 Dipl.-Kaufm. Andreas Lesser
managing director of the Friedrich Christian Lesser Foundation
at the establishment of the Working Group
© Friedrich-Christian-Lesser-Stiftung